Published on: 9 April 2013 | Last updated: 27 March 2017
This tour is designed to give a flavour of everything that Puglia has to offer (and a little bit of the Basilicata region as well). The scenery includes the open rolling wheat­fields of the high plains around Altamura, the dramatic coastline of the Gargano coastline, and the olive groves of the Salento with their ancient olive trees. The tour takes in four UNESCO World Heritage-listed sites:
Alberobello with its conical trulli that have become an icon for the region;
Castel del Monte the mysterious castle that can be seen for miles around;
Matera - the unique city built into the rock;
the Santuario di Monte Sant'Angelo part of the Lombards in Italy site, has been a place of pilgrimage for well over a thousand years.
There's a lot more besides: Lecce, which, with its baroque centro storico, coastal cities with sea-front cathedrals and castles, and the gleaming white cities of the high inland plain.
Powered by WP-GPX Maps
tips for using the map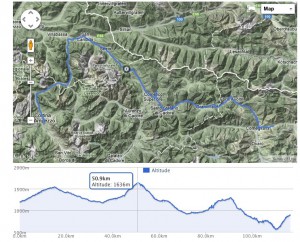 Run your cursor over the graph to show the elevation, and distance from the start, for any given point on the route. (Note: the altitude graph is not shown where the route is flat).
Click the little icon in the right-hand corner to see the map fullscreen
---
Distances
Lecce - Otranto
63 kms
Otranto - Santa Maria di Leuca
50 kms
Santa Maria di Leuca - Gallipoli
52 kms
Gallipoli - Porto Cesareo
33 kms
Porto Cesareo - Ostuni
88 kms
Ostuni - Alberobello
43 kms
Alberobello - Monopoli
41 kms
Monopoli - Matera
76 kms
Matera - Trani
106 kms
Trani - Manfredonia
72 kms
Manfredonia - Vieste
67 kms
Vieste - Rodi Garganico
35 kms
The Strada Statale 16
The Strada Statale 16 is the major road along the Adriatic coast running for hundreds of kilometres. The geography of the area means that the coastal strip has become a transport corridor with the major road and the rail line - and for long stretches it runs on the inland side of a railway embankment, so you don't even get to see the sea. This can make travelling along the coast with a bike problematic. Some stretches of the SS16 have been 'upgraded' to super­strada, and in many cases bikes are banned from the super­strada. Fortunately the old road has usually been left in place and offers an altern­ative for local travellers and cyclists. There are other stretches where the SS16 seems to be the only altern­ative. I have spent a day cycling along a section and it was pretty tedious: this is quite possibly Italy's most boring road - I started looked forward to the sight of a petrol station. If you're looking at the map and thinking 'ooh that looks like a nice coastal road' my advice would be to think again. If you are planning on cycling along the coast then defin­itely check out the bicitalia routes designed using the knowledge of local cyclists.
Getting there and back
If you are flying, the two main airports are Bari and Brindisi. Brindisi airport seems to have a greater range of services even though Bari is the regional capital. From Brindisi you can take the train to Lecce or you could pick up the Bicitalia Ciclovia Adriatica to Lecce.
There are frequent high-speed train services between Lecce and Bologna (the rail hub serving northern Italy), but you will need to carry your bike in a bag.
At the end of the route at Rodi Garganico you can catch the train to Foggia and from there to other stations on the national network. Trains on this line are operated by the Ferrovie del Gargano. The company now has a fleet of bike-friendly trains; for more inform­ation (in English) go to: ferroviedelgargano.com: Bike transport on the train.
When to go
April, May, June and September are the best months to go - with blossom in the trees and wild flowers in the fields. Avoid July and August as it will be very hot and probably pretty crowded.
Options
This route would work just as well in the other direction.
You could turn it into a figure of 8 by following sections of the Bicitalia Ciclovia Adriatica. They've also published a roadbook for the section through Puglia;
The route also connects to two Bicitalia national routes:
Day-rides
There are lots of possib­il­ities for day rides in the Gargano peninsula and around Alberobello.
Downloads
Maps to print out or view offline
---
About the maps
The maps are in two versions: A4 portrait format - for printing and maybe also for viewing on an iPad, and A5 for smaller tablets and smart­phones. (A4 and A5 are inter­na­tional paper sizes).
Links open in new windows unless you 'save as' etc.
GPS files
Puglia Grand Tour gps files


(.zip file containing 12 gpx track files plus waypoints)

Italy Points of Interest

About POIs

POIs are like waypoints, but while you can usually only store a limited number of waypoints on a device, you can store thousands of POIs. These files include inform­ation about campsites and hostels, bike shops, train stations, drinking water sources as well as warnings for tunnels and roads where bikes are banned. Please check the ReadMe file for instruc­tions. Updated April 2018. The file format is only compatible with Garmin GPSes .
More information
Places to stay
Hotels and B&Bs
Find and book places to stay with Booking.com
Booking.com pages for places on this section of the route:
About these links
If you use these links to book accom­mod­ation Booking.com will pay me a small part of their commission. This helps support the costs of producing this site.
I use Booking.com to find and book places to stay when there are no campsites in the area. The large majority of hotels and many hostels are now on 'Booking'. I like it because it means that I can get almost-instant confirm­ation. The rating system is also a reliable guide to the quality of the accommodation.
I've never had a problem finding places to keep my bike —even if it's a cupboard or store room. I always use the 'special requests' field on the booking form to tell the hotel that I'm travelling with a bike, which gives them the oppor­tunity to let me know if there's a problem.
Many properties offer free cancel­lation but it's a good idea to check the condi­tions as these vary from property to property.
Campsites
There are plenty of campsites along the coast. Inland, there are fewer campsites. Note however, that out of the main holiday season many hotels are campsites are closed, so it's worth checking and phoning ahead if you are travelling in April, May or September.
Map of campsites along the route: PGT-campsites-map-show map in overlay | PGT-campsites-map-show map in new window
Articles in this series
Puglia Grand Tour – Overview
---
Get in touch
Please get in touch if you find any errors in the information, or if there's anything, good or bad, that you'd want other cyclists to know.