Published on: 9 April 2013 | Last updated: 14 March 2018
This section of the tour takes you from Santa Maria di Leuca to the city of Gallipoli and then on to the coastal resort of Porto Cesare.
The coastline here is less dramatic than the coastline in the previous section, but it's a nice ride on quiet roads. There are beaches on the Baia Verde on the way into Gallipoli.
Powered by WP-GPX Maps
tips for using the map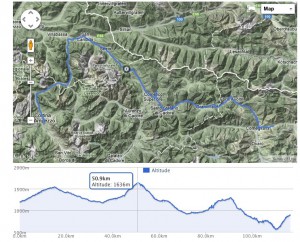 Run your cursor over the graph to show the elevation, and distance from the start, for any given point on the route. (Note: the altitude graph is not shown where the route is flat).
Click the little icon in the right-hand corner to see the map fullscreen
---
Distances
Santa Maria di Leuca - Gallipoli
52 kms
Gallipoli - Porto Cesareo
33 kms
Gallipoli
Gallipoli (no relation to the site of the First World War landings) means 'beautiful city' and it is another of the highlights of the Salento coast.
More information
Places to stay
Find and book places to stay with Booking.com
Booking.com pages for places on this section of the route:
Gallipoli | Porto Cesareo
About these links
If you use these links to book accom­mod­ation Booking.com will pay me a small part of their commission. This helps support the costs of producing this site.
I use Booking.com to find and book places to stay when there are no campsites in the area. The large majority of hotels and many hostels are now on 'Booking'. I like it because it means that I can get almost-instant confirm­ation. The rating system is also a reliable guide to the quality of the accommodation.
I've never had a problem finding places to keep my bike —even if it's a cupboard or store room. I always use the 'special requests' field on the booking form to tell the hotel that I'm travelling with a bike, which gives them the oppor­tunity to let me know if there's a problem.
Many properties offer free cancel­lation but it's a good idea to check the condi­tions as these vary from property to property.
Campsites
There are campsites near Gallipoli and Sant'Isidoro.
Map of campsites along the route: PGT-campsites-map-show map in overlay | PGT-campsites-map-show map in new window
Articles in this series
---
Get in touch
Please get in touch if you find any errors in the information, or if there's anything, good or bad, that you'd want other cyclists to know.