Published on: 9 April 2013 | Last updated: 27 March 2017
Some good news
There's a station at Rodi Garganico, but when I first wrote this guide, the trains on the line were old and didn't take bikes. The line now has a fleet of modern trains that take bikes (maximum three). So the best option at the end of the route is to get the train to Foggia and on from there.
Trains on this line are operated by the Ferrovie del Gargano. The company now has a fleet of bike-friendly trains; for more inform­ation (in English) go to: ferroviedelgargano.com: Bike transport on the train.
You don't have to pay to transport your bike, on the Ferrovie del Gargano trains, but note that if you are changing onto the trenitalia national network you may need a bike ticket, especially if you are travelling out of the Puglia region.
The rest of this article describes the options if you want to continue by bike, so you can ignore it if you plan to get the train.
If you want to continue on by bike, going south, you could follow the inland variant of the Ciclovia dell Adriatico through the 'Capitanata' area of Puglia, and then follows the coast.
Heading north, you could follow the Ciclovia Adriatico - much of the route along the coast of Abruzzo and Le Marche has been mapped and is on the bicitalia site. I have to say though that my personal recom­mend­ation would be to head inland for the chain of national parks along the Apennines - aiming for the Sangro river valley.
Foggia option.
Powered by WP-GPX Maps
tips for using the map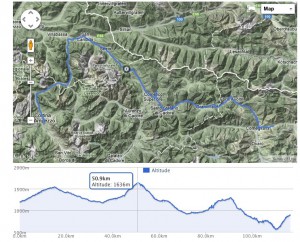 Run your cursor over the graph to show the elevation, and distance from the start, for any given point on the route. (Note: the altitude graph is not shown where the route is flat).
Click the little icon in the right-hand corner to see the map fullscreen
---
Termoli option
Marina-di-Chieuti option
Distances
Rodi Garganico - Marina-di-Chieuti
74 kms
Rodi Garganico - Foggia
93.8 kms
Rodi Garganico - Termoli
110 kms
This is the shortest of the options, however it involves a stretch on the SS16. There are also more services from Termoli, so it may not save much time in the end. The name of the station is Chieuti-Serracapriola.
Articles in this series
Puglia Grand Tour – 9 – onward connections
---
Get in touch
Please get in touch if you find any errors in the information, or if there's anything, good or bad, that you'd want other cyclists to know.