Published on: 13 December 2016 | Last updated: 7 January 2020
At a glance
Distance
390 kilometres
Difficulty/terrain
Easy-ish. There are some short climbs, but nothing either long or especially steep.
Traffic
Mainly on quiet roads. There're some busier sections going out of Olbia.
Surfaces
Entirely on surfaced roads or cycleways.
Finding your way
There are no cycling-specific signs but the roads are well-signed and you shouldn't have any problem following the route. You could ride the route in the other direction but riding anti-clockwise means that you are on the side of the road nearest the sea.
When to go
May, June and September are the ideal months. April and October are also good although the weather is more variable.
Overview
This route takes you along the coastline of northern Sardegna with its distinctive pink granite rock forma­tions, and the archipelago of islands in the Strait of Bonifacio - the strip of water between the islands of Sardegna and Corsica. Don't miss the loop to the La Maddalena national park.
After the dramatic Capo Testa the route turns south following one of the least developed stretches of coast towards the towns of Castelsardo and Stintino, and on from here to Alghero.
Highlights
La Maddalena archipelago
the Capo Testa
the Capo Caccia
the Capo d'Orso
Golfo degli Aranci
Stintino a former tuna-fishing port now a charming coastal resort
historic Castelsardo, one time base of the Genovese Doria family on the island
Alghero. Don't miss the new from the historic bastioni (sea walls)
Nuraghe Palmavera near Alghero
Beaches
There are lots of great beaches along the way. My (very arbitrary) list is:
Vignola a Mare south of Santa Teresa Gallura (one of a long strip of beaches along a stretch of undeveloped coast)
the Marina di Sorso between Castelsardo and Porto Torres
La Pelosa beach north of Stintino on of the island's most famous (but there's also the Spiaggia delle Saline and Ezzi Mannu)
the Mugoni, Lazaretto, Le Bombarde, and Maria Pia beaches near Fertilia and Alghero.
For more recom­mend­a­tions check: sardinianbeaches.com an excellent English-language guide to the island's beaches.
Map and altitude profile
Powered by WP-GPX Maps
tips for using the map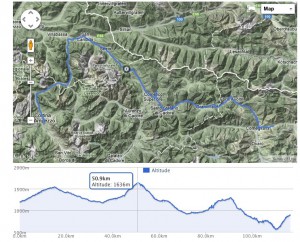 Run your cursor over the graph to show the elevation, and distance from the start, for any given point on the route. (Note: the altitude graph is not shown where the route is flat).
Click the little icon in the right-hand corner to see the map fullscreen
---
Distances
Olbia to Golfo Aranci
20 kms
Golfo Aranci to Palau (via Nuraghe La Prisgiona)
66 kms
Golfo Aranci to Palau (direct)
50 kms
La Maddalena and Caprera Islands
38 kms
Palau to Santa-Teresa Gallura
30 kms
Santa-Teresa Gallura to Castelsardo
86 kms
Castelsardo to Stintino
64 kms
Stintino to Alghero
48 kms
Options
You could combine this route with the Corsica West Coast route by taking the ferry from Bonifacio to Santa Teresa Gallura, or altern­at­ively, the La Méridionale ferry from Propriano to Porto Torres. And of course you can continue on south following the Sardegna West Coast route on this site.
You could also return by bike to Olbia: the Guida Cicloturistica della Sardegna has a route via Sassari and Tempio-Pausania, and from there there are a couple of roads that take you into Olbia which both look like reasonable options.
If you plan to end your tour in Alghero, but you'd like to extend it a bit, then a good option would be to take the gorgeous coastal road to Bosa and then return to Alghero via Villanova Monteleone.
The Costa Smeralda?
This route delib­er­ately avoids the Costa Smeralda. As this is perhaps the island's best known resort destin­ation this may seem a bit perverse but this section of the coast is frequented by the super-rich and it has gained a certain glamour that it doesn't deserve. Porto Cervo, the main resort, is really a pretty dull place. The road to get there is scenic but is also narrow, and during the season it can be busy.
Getting there and back
Flights
Olbia airport is served by a wide range of low-cost operators. It's a short taxi ride from the city centre but is also relat­ively easy to get into and out of by bike.
Ferries
There are ferry terminals at Olbia and the nearby Golfo degli Aranci. Of the two Golf degli Aranci is the more convenient, as you don't need to ride out of the centre of Olbia. However, the town of Olbia is worth a visit.
There's no ferry port in Alghero there are ferry services between Porto Torres and Marseille, Toulon, Genova and Barcelona. There are also ferry services between Santa Teresa Gallura and Bonifacio in Corsica France.
Downloads
Maps to print out or view offline
The zip files contain pdf files packaged together for convenience. If you are using a tablet you may find it easier to download the individual sections.
Show map download links for individual sections
About the maps
The maps are in two versions: A4 portrait format - for printing and maybe also for viewing on an iPad, and A5 for smaller tablets and smart­phones. (A4 and A5 are inter­na­tional paper sizes).
Links open in new windows unless you 'save as' etc.
GPS files
Sardegna North Coast gps files


(.zip file containing five gpx track­files and one file of waypoints)

Italy Points of Interest

About POIs

POIs are like waypoints, but while you can usually only store a limited number of waypoints on a device, you can store thousands of POIs. These files include inform­ation about campsites and hostels, bike shops, train stations, drinking water sources as well as warnings for tunnels and roads where bikes are banned. Please check the ReadMe file for instruc­tions. Updated April 2018. The file format is only compatible with Garmin GPSes .
More information
Places to stay
Hotels and B&Bs
This is one of the main tourist areas of Sardegna, so there are plenty of places to stay in the main towns: Olbia, Golfo degli Aranci, Palau, Santa Teresa Gallura and Alghero.
Find and book places to stay with Booking.com
Booking.com area pages:
About these links
If you use these links to book accom­mod­ation Booking.com will pay me a small part of their commission. This helps support the costs of producing this site.
I use Booking.com to find and book places to stay when there are no campsites in the area. The large majority of hotels and many hostels are now on 'Booking'. I like it because it means that I can get almost-instant confirm­ation. The rating system is also a reliable guide to the quality of the accommodation.
I've never had a problem finding places to keep my bike —even if it's a cupboard or store room. I always use the 'special requests' field on the booking form to tell the hotel that I'm travelling with a bike, which gives them the oppor­tunity to let me know if there's a problem.
Many properties offer free cancel­lation but it's a good idea to check the condi­tions as these vary from property to property.
Hostels
There is (I think) a hostel in Alghero and another one on the Asinara island, but if you go outside the main tourist season you shouldn't have too much diffi­culty finding more economical accom­mod­ation options.
Campsites
There are plenty of campsites along the route, but some have a relat­ively short opening season, so if you are travelling in April or October be sure to check opening times.
Campsites map: FT-map-campsites-sardegna-north-coast-show map in overlay | FT-map-campsites-sardegna-north-coast-show map in new window
Transport and services
Trains
There's a train station in Alghero with services to Sassari where you can connect to Porto Torres, Olbia and Cagliari. For more inform­ation see this page: Getting around: local and regional train services. There are also rail stations at Olbia, Golfo degli Aranci and Porto Torres.
Renting a bike
There's a good choice of firms offering bike rental. Alghero, Oristano and Cagliari offer the best prospects, but you may be able to arrange delivery to other places. For more inform­ation see the Sardegna section of the page on renting a bike: italy-cycling-guide.info: Renting a bike
Bike shops on this route
If you know of other bike shops, or you spot a mistake, please let me know.
Resources
Tourist information websites
National and regional parks
Other places of interest
Ferries
Articles in this series
Sardegna North Coast: Introduction
---
Get in touch
Please get in touch if you find any errors in the information, or if there's anything, good or bad, that you'd want other cyclists to know.