Published on: 15 January 2016 | Last updated: 13 January 2020
This tour takes in some of the most glorious stretches of Italy's coast: starting with the Costiera Amalfitana (Amalfi Coast) and then the Costiera Cilentana part of the Cilento national park. It finishes with a short, but spectacular, section along the coast of Basilicata and into Calabria.
For much of the way the route follows the roads that were built in the nineteenth and early twentieth centuries, carved out of the rocky cliff faces, to provide transport links to remote communities that were previ­ously only been reachable by sea.
Along the length of the road are groves of lemon and olive trees, on terraces that go down the cliff face to the edge of the sea. There are also more than 50 defensive watchtowers built to protect the coast against pirate raids.
At a glance
Distance
295 kms
Difficulty/Terrain
Moderately challenging.The route is moder­ately challenging in that there's a fair amount of climbing along the way, but none of the climbs are very long or steep.
Traffic
The busiest section of the route is on the Amalfi Coast between Sorrento and Salerno. The roads after that are relat­ively quiet, but are likely to be busy in the peak tourist season in August. I've suggested ways to deal with the traffic on the Sorrento-Amalfi section (see the first article in this series), but if you are inexper­i­enced or nervous in traffic you might want to think about avoiding this section.
Surfaces
Almost entirely on asphalt-surfaced public roads.
When to go
The ideal times to do this route would be early and late Summer, avoiding August and the peak tourist season. This is partly because of the temper­ature, but also because the roads will be quieter.
Map and altitude profile
Powered by WP-GPX Maps
tips for using the map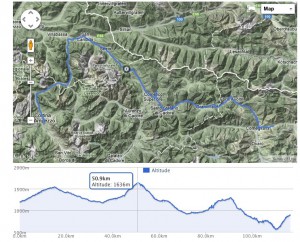 Run your cursor over the graph to show the elevation, and distance from the start, for any given point on the route. (Note: the altitude graph is not shown where the route is flat).
Click the little icon in the right-hand corner to see the map fullscreen
---
Distances
Sorrento to Salerno
76 kms
Salerno to Agropoli
47 kms
Agropoli to Acciaroli
35 kms
Acciaroli to Palinuro
52 kms
Palinuro to Sapri
49 kms
Sapri to Praia a Mare
32 kms
Praia a Mare to Scalea
18 kms
The Nastro Azzurro (Blue Ribband) road between Sorrento and Amalfi is rightly well known as one of Italy's most scenic coastal roads, but there are long stretches of the rest of the route that are every bit as dramatic, but with less traffic.
In between the Amalfi and Cilento coasts there are the remains of the Greek city of Paestum, the finest ancient Greek site on mainland Italy, and defin­itely a match for any of the ancient Roman sites.
You can, of course, go south to north, but to my mind, it works best going north-south, as you are riding on the side of the road closest to the sea and with the best views.
Places along the way
The star of the show is defin­itely the landscape, but never­theless there are plenty of charming and atmospheric places to enjoy. Sorrento, Positano and Amalfi are the best-known destin­a­tions, but there are plenty of other charming and atmospheric places along the way.
Salerno is the largest town along the route (and provincial capital). It has a charming centro storico with some impressive medieval aqueducts. Its archae­olo­gical museum gets good reviews; its star exhibit is a bronze head of Apollo. Salerno was home to Europe's first medical school (founded in the 9th century), and also the scene of the Allied landing in Italy in September 1943. A critical first step in the liber­ation of the continent it has been overshadowed by the Normandy landings that took place in June 1944.
The remains of the ancient Greek city at Paestum are one of Italy's best sites from the classical world.
Maratea (not to be confused with Matera) isn't partic­u­larly well known outside Italy, but for Italians, it's one of the hottest (or do I mean coolest?) tourist destinations.
Beaches
There are some beaches on the Sorrento and Amalfi coasts, but the best bets are further south on the Cilento and Basilicata coasts. Among the 15 beaches in Italy to be awarded the presti­gious 5 Vele (five sails) from the envir­on­ment­alist organ­isation Legambiente and the Touring Club Italiano, there are four along the route: Pollica, Acciaroli and Pioppi, Camerota and Maratea.
Getting there and back
Getting to Sorrento is tricky. It is possible, to ride from Napoli. However, it is tricky to navigate out of the city and then the climb from Vico Equense to Seiano is on a narrow and busy road — defin­itely not the best intro­duction to riding in Italy. I really wouldn't recommend this if you have only just arrived or if you are an inexper­i­enced rider.
Although I haven't used this service myself it looks to me that the best option is to take the Alilauro boat service to Sorrento. (Update: thanks to Chris C for getting in touch to confirm that it is indeed a good option). This boat leaves from the Molo Beverello. The service runs every two hours - but note that the service doesn't run on weekends or holidays. The fare (in 2020) is €13.20 plus 6€ for your bike. For inform­ation on times and fares go to alilauro.it: Napoli-Sorrento timetable and fares. You can also book online, but if you do, don't forget to print out your ticket.
There is a train station at Sorrento (on the Circumvesuviana line. According to the local cyclists' organ­isation Spacca Napoli Bike, you can now take bikes on these trains, but this is at the discretion of the capo del treno, and if the train is busy you may not get on. The train to Sorrento also stops at the Pompei archae­olo­gical site, so it's probably a good idea to time your journey to avoid the rush of tourists heading for Pompei. The Circumvesuviana trains leave from the Porta Nolana and Garibaldi stations and not the main Napoli Centrale station.
The route ends at Scalea where there's a station (official name: Scalea - Santa Domenica Talao) where you can get a regional train back to Napoli.
Options
I rode this route as part of a longer ride from the border with Lazio south through Napoli and then continuing on to Tropea in Calabria. If you are planning to do this route as part of a longer route, then it's defin­itely do-able, but you will face a couple of long very dull sections from the border with Lazio to Pozzuoli, north of Napoli, and south from Scalea to Pizzo on the Calabria coast.
For other options in the unspoilt Cilento national park check out the laviasilente.it.
I did this route in two parts, with a tour of Sicilia in the middle - making use of the regular ferry service from Salerno to Palermo in Sicilia operated by Grimaldi Lines.
More information
Places to stay
Hotels and B&Bs
Sorrento, Positano and Amalfi are also the main tourist centres for the area, but there are a number of other centres along the way. You shouldn't have too much diffi­culty finding a hotel bed. Prices on the Amalfi Coast are higher than elsewhere in the region, and in Italy generally, but if you book ahead you should still be able to find somewhere at a reasonable price, especially if you avoid the big-name tourist centres.
Find and book places to stay with Booking.com
Booking.com area pages:
About these links
If you use these links to book accom­mod­ation Booking.com will pay me a small part of their commission. This helps support the costs of producing this site.
I use Booking.com to find and book places to stay when there are no campsites in the area. The large majority of hotels and many hostels are now on 'Booking'. I like it because it means that I can get almost-instant confirm­ation. The rating system is also a reliable guide to the quality of the accommodation.
I've never had a problem finding places to keep my bike —even if it's a cupboard or store room. I always use the 'special requests' field on the booking form to tell the hotel that I'm travelling with a bike, which gives them the oppor­tunity to let me know if there's a problem.
Many properties offer free cancel­lation but it's a good idea to check the condi­tions as these vary from property to property.
Hostels
There are a number of hostels on the coast between Sorrento and Salerno but after that, there aren't any until you get to Praia a Mare. However, there are a lot more reasonably-priced accom­mod­ation options —including renting a 'bungalow' in a campsite.
Campsites
There are a couple of campsites in Sorrento that are convenient for the route as well a couple of other campsites along the Amalfi coast, that aren't so easy to get to from the route.
There are plenty of sites around Paestum. There are a fair number of sites further south, but bear in mind that these may only operate for a relat­ively short summer season (eg opening in June or July).
Campsites map: FT-STC-campsites-mapshow map in overlay | FT-STC-campsites-mapshow map in new window
Transport and services
Trains
Train stations along the route include Salerno, Paestum-Capaccio, Pisciotta-Palinuro, Sapri, Maratea, and Scalea.
Resources
General tourist information
Beaches
Cycling
Downloads
Maps to print out or view offline
The zip files contain pdf files packaged together for convenience. If you are using a tablet you may find it easier to download the individual sections.
Show map download links for individual sections
About the maps
The maps are in two versions: A4 portrait format - for printing and maybe also for viewing on an iPad, and A5 for smaller tablets and smart­phones. (A4 and A5 are inter­na­tional paper sizes).
Links open in new windows unless you 'save as' etc.
GPS files
The Southern Tyrrhenian Coast gps files


(.zip file containing 4 gpx track files and one waypoint file)

Italy Points of Interest

About POIs

POIs are like waypoints, but while you can usually only store a limited number of waypoints on a device, you can store thousands of POIs. These files include inform­ation about campsites and hostels, bike shops, train stations, drinking water sources as well as warnings for tunnels and roads where bikes are banned. Please check the ReadMe file for instruc­tions. Updated April 2018. The file format is only compatible with Garmin GPSes .
Articles in this series
Southern Tyrrhenian Coast overview
---
Get in touch
Please get in touch if you find any errors in the information, or if there's anything, good or bad, that you'd want other cyclists to know.