Published on: 21 March 2013 | Last updated: 9 February 2018
This route makes the 500-metre (altitude)climb from Bellagio on the Lago di Como to the chapel dedicated to Madonna del Ghisallo - patron saint of cycling. This is a famous climb that forms part of the Giro di Lombardia (average gradient is 9 per cent). The chapel is a place of pilgrimage for Italian cyclists. There are also great views from here over the lake.
Next door to the chapel is the cycling museum - admission is 6 euros - but as a reward for those who make the climb by bike, it's five for cyclists. The museum is housed in a modern, spacious, well-lit building. The collection includes the bikes ridden by Gino Bartali, Fausto Coppi e Eddie Merckx in their Tour de France victories, as well as a collection of pink, yellow and rainbow shirts and other memor­abilia - bone up on your history of Italian cycling to get the most out of it.
As well as the bikes used by the champions there's a bike that was used by firemen and another by an arrotino (knife sharpener - an Italian insti­tution that's now dying out) as well as a Swiss army bike. There are some wooden bikes and wheels with wooden rims made by a firm in the village itself.
From the chapel and museum the route heads back to the lake via the Valbrona and a scenic stretch of road along the lakeside.
Map and altitude profile
Powered by WP-GPX Maps
tips for using the map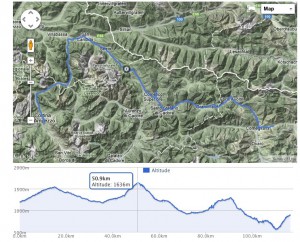 Run your cursor over the graph to show the elevation, and distance from the start, for any given point on the route. (Note: the altitude graph is not shown where the route is flat).
Click the little icon in the right-hand corner to see the map fullscreen
---
Downloads
Madonna del Ghisallo day-ride gps file


(.zip file containing 1 gpx track files)

Italy Points of Interest

About POIs

POIs are like waypoints, but while you can usually only store a limited number of waypoints on a device, you can store thousands of POIs. These files include inform­ation about campsites and hostels, bike shops, train stations, drinking water sources as well as warnings for tunnels and roads where bikes are banned. Please check the ReadMe file for instruc­tions. Updated April 2018. The file format is only compatible with Garmin GPSes .
---
Get in touch
Please get in touch if you find any errors in the information, or if there's anything, good or bad, that you'd want other cyclists to know.