Published on: 5 April 2018 | Last updated: 19 June 2018
At a glance
Distance
333 kilometres
Difficulty/​terrain
Moderately challenging. There are some long climbs on this route, but none of them are especially steep.
Traffic
The route is mainly on quiet roads, and there are also three sections of traffic-free cycleway. However, the Sella Ronda, does get relat­ively busy. The worst periods are in the mornings and afternoon when hikers (etc) head up the mountains. The scenery makes it worth­while, but it's something to bear in mind.
Surfaces
You could ride this route entirely on surfaced roads or cycleways, but at a three points on the route you have the option of riding a traffic-free cycleway with a compacted aggregate surface.
Signposting
This is not an official route and there are no signs, but it is easy to follow using normal road signs.
Options and variants
You could ride this route in the opposite direction, however, note that going the other way there are some steeper climbs.
Bozen at the end of the tour is a hub for national and inter­na­tional cycle routes, so there's a choice of routes if you want to continue further.
Connections
The route uses a section of the Ciclabile delle Dolomiti which runs from Toblach (Dobbiaco) to Calalzo di Cadore in the Veneto. This cycleway is part of the München-Venezia cycle route. It also connects with the Dolomites West to East route on this site.
Weather and when to go
July and August are probably the best months. You could go in June or September but things get a little riskier. Normally the roads should be passable, but there is a risk of snow and the closures of some of the higher passes. Bear in mind that temper­atures fall by 6.6ºC for ever 1000 metres of altitude - so temper­atures on the higher passes will be 13ºC lower than at sea-level.
The Giro d'Italia is held in June, but very often there are changes in the route on the mountain stages, due to weather and road condi­tions. You can also check the weather stats for Cortina d'Ampezzo on wikipedia.
Map and altitude profile
Powered by WP-GPX Maps
 tips for using the map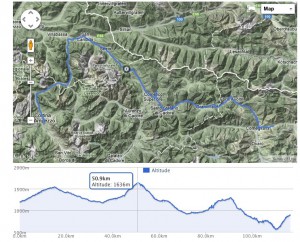 Run your cursor over the graph to show the elevation, and distance from the start, for any given point on the route. (Note: the altitude graph is not shown where the route is flat).
Click the little icon in the right-hand corner to see the map fullscreen
---
| Distances | |
| --- | --- |
| Tarvisio - Venzone | 62 kms |
| Venzone - Ovaro | 39 kms |
| Ovaro - Sella di Ciampigotto | 33 kms |
| Sella di Ciampigotto - Auronzo di Cadore | 24 kms |
| Auronzo di Cadore - Misurina | 27 |
| Misurina - Cortina d'Ampezzo | 22 kms |
| Cortina d'Ampezzo - Corvara | 37 kms |
| Corvara - Cianacei (Canazei) | 32 kms |
| Cianacei - Welschnofen (Nova Levante) | 30 kms |
| Welschnofen (Nova Levante) - Bozen | 28 kms |
This route takes you through the heart of the Dolomites: the Sella Ronda. It also takes in four Italian regions: Friuli-Venezia Giulia, the Veneto, Trentino and Südtirol.
The tour starts in Tarvisio near the border with Austria and Slovenija, and there's a downhill cruise along one of Italy's most beautiful cycleways to Venzone.
From Venzone you start to make a long steady climb to the Sella di Ciampigotto — the gateway to the Veneto and the Dolomites. After a descent to Auronzo di Cadore, there's another climb to the Lago di Misurina, one of the most beautiful lakes in the Dolomites, and an optional (but unmissable) loop to the Tre Cime di Laveredo one of the iconic places in the Dolomites. (Note this loop is not included in the overview map and route statistics).
From the Tre Cime, you head heads on towards Cortina d'Ampezzo, from there, over the Passo di Falzarego (2105m), and the Passo Valparola (2192m). At the Passo Valparola the route takes the northern half of the Sella Ronda towards the villages of Corvara and Colfosco — good places to stop for the night before heading for the Grodnerjoch (Passo di Gardena) (2121m) and the Passo di Sella (Sellajoch) (2213m).
After the Sella Ronda you descend to Cianacei (Canazei) in the Val di Fiemme. After this there's one more pass , the Karerpass (Passo di Costalunga) (1745m) and a stop at the beautiful Karrersee (Lago di Carezza) and the iconic image of the Rosengarten (Catinaccio) reflected on the water of the lake. And then, well it's almost downhill all the way to the elegant city of Bozen (Bolzano) in the Südtirol.
Important note
The Sella Ronda is a magnet for car and motorbike tourers. Add to that the thousands of hikers and climbers and these roads get pretty busy in high summer. Some of the passes have become car parks with bars and restaurants offering indif­ferent service for high prices. The spectacular scenery makes up for that, but if you prefer peace and quiet as you are riding you might want to choose another, less famous, route - see my Dolomites West-East route for example.
In 2017 the regional author­ities in the Trentino and Südtirol agreed to close the Passo di Sella to private cars and motor­bikes on Wednesdays in July and August. This was on an exper­i­mental basis and I don't know whether it will be repeated in 2018.
Options
The Dolomites were once tropical islands which means that there are a huge number of permuta­tions of possible routes. The route inter­sects with my suggested West-East route at Cortina and Cianacei and you could combine bits of the routes for example from Cianacei, instead of heading east you could head west to the Passo di Fedaia and make a big figure of eight.
If you want to ride the whole of the Sella Ronda I'd suggest basing yourself in either Colfosco, Arabba or Canazei and doing the circuit as a day-ride without your luggage. Colfosco and Arabba are on the circuit itself while you need to climb up to the Passo Pordoi from Cianacei to get to the circuit.
Getting there … and getting back
Getting there
There's a direct train from Trieste to Tarvisio Boscoverde. The train calls at Trieste airport. With 16 spaces for bikes this is a very bike-friendly and straight­forward option.
If you are starting from Venezia, you can connect with the Trieste-Tarvisio train at Udine.
There's also the MiCoTra trains which are a joint venture between the Austrian Railways (ÖBB) and a local rail company, the Ferrovia Udine Cividale. There are two trains a day from Udine: one runs first thing in the morning, and the other in the late afternoon — so you'd need to stay overnight in either Udine or Tarvisio.
The MiCoTra train service is due to be extended so that from July it runs through to Trieste. I don't have inform­ation about whether it will stop at the airport, but that looks like a definite possib­ility.
The MiCoTra trains run to/​from Villach in Austria. They connect with services from/​to Vienna and Salzburg. You probably don't need to book tickets for the MiCoTra train, but if you do, then you can book them on the ÖBB website (oebb.at). Note that it is shown as a regional express service (eg REX 1823).
The MiCoTra trains have one, or even two dedicated carriages, for bikes. These don't have numbered bike spaces, and so there's no way to reserve bike spaces. But you do need a bike ticket. If you are coming from Austria these cost 2€, and if you are coming from within Italy they cost 3.50€.
There are also Railjet services from Klagenfurt. Note that you have to reserve bike places on these. This is very easy to do online, at least once you know how: when you book a ticket after selecting the service you are inter­ested in you then are shown the departure and arrival times, plus a big red box to add it to the basket. In between, there's a box that says 'who is going?' Click on this, and you can then reserve your bike space(s). The bike reser­va­tions cost 3.50€.
Klagenfurt airport is the closest airport to the start of the route. During the summer there are inter­na­tional services from Hamburg, Köln/Bonn and London Gatwick (Sommeflugplan 2018 ).
Getting back
Planes
The nearest airport to the end of the route at Bozen is Innsbruck (Summer 2018 timetable ). München airport is also easy to get to —simply get off at München's Ostbahnhof and take the S-Bahn to the airport.
Heading south, the nearest airport is Verona, followed by Treviso, Venezia and Bologna.
Trains
Bozen is on the main line that runs north over the Brenner Pass, and south to Trento and Verona. Three train companies operate services along the line:
Trenitalia offer bike-friendly regional services to Bologna (via Bozen, Trento, and Verona) as well as not-so-bike-friendly high-speed train services
the SAD regional train company operates services north to Brenner and Lienz in Austria
the Deutsche Bahn-ÖBB Eurocity services to Innsbruck and München in the north and Bozen, Trento, Bologna, Verona and Venezia to the south.
To travel on the Eurocity services you need to reserve a bike place (cost 10€) in advance, and so far as I know, you can't do this online. The DB-ÖBB service is clearly the best option if you want to travel to Innsbruck or München, but the other companies' services may be a better choice for other destin­a­tions.
You can download the timetable for the DB-ÖBB EuroCity service DB-ÖBB Eurocity service 2018 timetable and route map.
Downloads
Maps to print out or view offline
The zip files contain pdf files packaged together for convenience. If you are using a tablet you may find it easier to download the individual sections.
Show map download links for individual sections
 About the maps
Links open in new windows unless you 'save as' etc.
The maps are in two versions: A4 portrait format - for printing and maybe also for viewing on an iPad, and A5 for smaller tablets and smart­phones. As far as eReaders are concerned so far I've not managed to get them to work on a Nook - but you may have more success with other devices.
GPS files
Dolomites East to West gps files


(.zip file containing 8 gpx files)

 Italy Points of Interest

 About POIs

POIs are like waypoints, but while you can usually only store a limited number of waypoints on a device, you can store thousands of POIs. These files include inform­ation about campsites and hostels, bike shops, train stations, drinking water sources as well as warnings for tunnels and roads where bikes are banned. Please check the ReadMe file for instruc­tions. Updated April 2018. The file format is only compatible with Garmin GPSes .
More information
Places to stay
Transport and services
Trains and buses
There are no train services in the mountains. The nearest train stations to the route are at Carnia, Toblach, and Bozen.
There are bike-bus services (bici-bus) services, connecting Cortina and Auronzo di Cadore, and a bici-bus from Canazei along the Ciclabile delle Dolomiti Val di Fassa Val di Fiemme.
Bike shops
There are several bike shops in the Alta Badia (about the half way point of the route) but relat­ively few on the rest of the route until you get to Bozen (Bolzano) at the end.
Map: Â Â DEW-bikeshops-FT-show bike shops map in overlay | DEW-bikeshops-FT-show bike shops map in new window
Resources
The four main regional tourist inform­ation sites are:
Useful local websites include:
Cycling-related websites
Other useful sites
Articles in this series
---
Get in touch
Please get in touch if you find any errors in the information, or if there's anything, good or bad, that you'd want other cyclists to know.