Published on: 8 March 2018 | Last updated: 10 March 2018
From the Lago there's a further 7 kilometre and 600 metre climb to the Tre Cime di Lavaredo. The last 4 kilometres or so are fairly steep - with an altitude gain of 485 metres over 4.4 kms.
The road is marked on some maps as a private road. In fact the local authority charge for car parking and there's a barrier at the bottom of the climb (bikes go free).
Powered by WP-GPX Maps
tips for using the map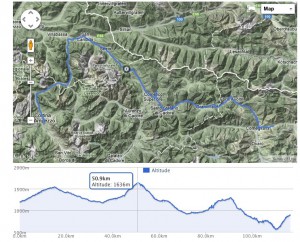 Run your cursor over the graph to show the elevation, and distance from the start, for any given point on the route. (Note: the altitude graph is not shown where the route is flat).
Click the little icon in the right-hand corner to see the map fullscreen
---
The tarmac road finishes at the Rifugio Auronzo. From there you are on a mountain bike you could continue a little further to the Rifugio Lavaredo otherwise, lock your bike somewhere and walk it's well worth it.
The rifugio has been a finish point for stages on a number of Giros d'Italia including the penul­timate stage of the 2013 Giro.
Articles in this series
East to West through the Dolomites – Part 2
---
Get in touch
Please get in touch if you find any errors in the information, or if there's anything, good or bad, that you'd want other cyclists to know.