Published on: 17 March 2013 | Last updated: 10 March 2018
This route starts in Friuli-Venezia-Giulia and takes you through the unspoilt Val Pesarina and from there it picks up the Grande Strada delle Dolomiti which climbs towards the lake at Misurina and an optional (but unmissable) loop to the Tre Cime di Laveredo one of the iconic places in the Dolomites. (Note this loop is not included in the overview map and route statistics).
From the Tre Cime it heads on towards Cortina d'Ampezzo from where the Grand Strada continues over the Passo di Falzarego 2105m and the Passo Valparola 2192m.
At the Passo Valparola my suggested route makes a detour off the Grande Strada and into the Südtirol and the villages of of Corvara and Colfosco. These villages are good places to stop for the night before heading for the Sella Ronda. My suggested route takes in two of the passes on the Sella - the Grodnerjoch (Passo di Gardena) (2121m) and the Passo di Sella (Sellajoch) (2213m).
Map and altitude profile
Powered by WP-GPX Maps
tips for using the map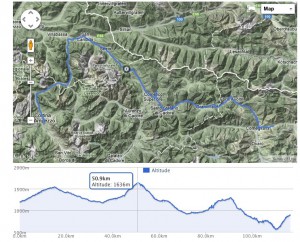 Run your cursor over the graph to show the elevation, and distance from the start, for any given point on the route. (Note: the altitude graph is not shown where the route is flat).
Click the little icon in the right-hand corner to see the map fullscreen
---
Distances
Start to Pesariis
8 kms
Pesariis - Auronzo di Cadore
43 kms
Auronzo di Cadore - Misurina
25 kms
Misurina-Tre Cime loop
14 kms
Misurina - Cortina d'Ampezzo
15 kms
Auronzo di Cadore - Cortina d'Ampezzo (direct)
43 kms
Cortina d'Ampezzo - Canazei
69 kms
Canazei - Bozen (Bolzano)
56 kms
After the Sella Ronda there's one more pass , the Karerpass (Passo di Costalunga) (1745m) and a stop at the beautiful Karrersee (Lago di Carezza) and the iconic image of the Rosengarten (Catinaccio) reflected on the water of the lake. And then, well it's almost downhill all the way to the elegant city of Bozen (Bolzano).
Important note
The Grande Strada delle Dolomiti is rated as one of Europe's great mountain roads. But that comes at a price: these roads are a magnet for motorbike and car tourers. Add to that the thousands of hikers and climbers and these roads get pretty busy in high summer. Some of the passes have become car parks with bars and restaurants offering indif­ferent service for high prices. The spectacular scenery makes up for that but if you prefer peace and quiet as you are riding you might want to choose another, less famous, route - see my Dolomites West-East route for example.
Options
The Dolomites were once tropical islands which means that there are a huge number of permuta­tions of possible routes. The route inter­sects with my suggested West-East route at Cortina and Canazei and you could combine bits of the routes for example from Canazei, instead of heading east you could head west to the Passo di Fedaia and make a big figure of eight.
If you want to ride the whole of the Sella Ronda I'd suggest basing yourself in either Colfosco, Arabba or Canazei and doing the circuit as a day-ride without your luggage. Colfosco and Arabba are on the circuit itself while you need to climb up to the Passo Pordoi from Canazei to get to the circuit.
When to go
The mountains are a great place to be in July and August , when temper­atures at lower altitudes can be very hot. The Giro d'Italia takes place in June and will almost certainly come through the area. In June and September there is the Sella Ronda Bike Day when the roads are closed to all other traffic.
Downloads
Maps to print out or view offline
About the maps
Links open in new windows unless you 'save as' etc.
The maps are in two versions: A4 portrait format - for printing and maybe also for viewing on an iPad, and A5 for smaller tablets and smart­phones. As far as eReaders are concerned so far I've not managed to get them to work on a Nook - but you may have more success with other devices.
GPS files
East to West through the Dolomites gps files


(.zip file containing 4 gpx track files)

Italy Points of Interest

About POIs

POIs are like waypoints, but while you can usually only store a limited number of waypoints on a device, you can store thousands of POIs. These files include inform­ation about campsites and hostels, bike shops, train stations, drinking water sources as well as warnings for tunnels and roads where bikes are banned. Please check the ReadMe file for instruc­tions. Updated March 2017.
More information
Places to stay
Hotels and B&Bs
Find and book places to stay with Booking.com
Booking.com area pages:
About these links
If you use these links to book accom­mod­ation Booking.com will pay me a small part of their commission. This helps support the costs of producing this site.
I use Booking.com to find and book places to stay when there are no campsites in the area. The large majority of hotels and many hostels are now on 'Booking'. I like it because it means that I can get almost-instant confirm­ation. The rating system is also a reliable guide to the quality of the accom­mod­ation.
I've never had a problem finding places to keep my bike —even if it's a cupboard or store room. I always use the 'special requests' field on the booking form to tell the hotel that I'm travelling with a bike, which gives them the oppor­tunity to let me know if there's a problem.
Many properties offer free cancel­lation but it's a good idea to check the condi­tions as these vary from property to property.
Hostels
There's a jugend­her­berge in Bozen (Bolzano) and a rifugio at the Sella Ciampigotto (section 1) and the base of the Tre Cime near Auronzo di Cadore (section 2).
Campsites
There are campsites at Auronzo di Cadore, Misurina, Cortina d'Ampezzo, Canazei and Bozen.
Map of campsites on the route: DolomitesEW-campsites-map-show map in overlay | DolomitesEW-campsites-map-show map in new window
Transport and services
Trains
Bozen (Bolzano) offers national and inter­na­tional services.
Articles in this series
East to West through the Dolomites: Overview
Get in touch
Please get in touch if you find any errors in the information, or if there's anything, good or bad, that you'd want other cyclists to know.
---