Published on: 17 March 2013 | Last updated: 9 March 2018
This 460-kilometre route route starts near the Trentino-Lombardia border and takes you through to Carnia in Friuli-Venezia-Giulia. There's also a variant with a spectacular descent to the Lago di Garda.
The route is designed to take in some of the lesser-known, and quieter, roads and passes but it still takes you to the Sella Ronda and Cortina d'Ampezzo so you won't be missing out on the more famous areas.
The locals will say that the Dolomites are the most beautiful mountains in the world, and when you see them glowing in the evening or morning light you think that they might just have a point - the mountains were once coral islands so the light brings out the colours.
As well as its natural beauty the area also has its own distinctive culture and history - the valleys of the central Dolomites are home to the Ladins - speakers of the Ladin language: a language which, as the name suggests, has its origins in Latin, and is related to other languages spoken across the arc of the Alps.
Tourism has certainly left its mark on the area, but fortu­nately there are still plenty of villages where you can admire the tradi­tional archi­tecture. You can also fill up your water bottle from the fontanelle (water fountains) which often still retain pride of place in the village.
Along the way it makes use of a number of cycleways through the Val di Sole, Val Rendena, Val di Fassa, Val di Fiemme and the Lunga via delle Dolomiti which follows an old railway line via Cortina d'Ampezzo to Toblach (Dobbiaco) in the Südtirol.
Map and altitude profile
Powered by WP-GPX Maps
 tips for using the map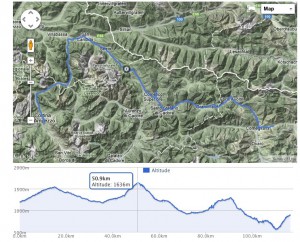 Run your cursor over the graph to show the elevation, and distance from the start, for any given point on the route. (Note: the altitude graph is not shown where the route is flat).
Click the little icon in the right-hand corner to see the map fullscreen
---
Distances
Ponte di Legno - Madonna di Campiglio
56 kms
Madonna di Campiglio - Tione di Trento
33 kms
Tione di Trento - Andalo
37 kms
Andalo - Molina di Fiemme
70 kms
Molina di Fiemme - Canazei
45 kms
Canazei - Agordo
50 kms
Agordo - Cortina d'Ampezzo
66 kms
Cortina d'Ampezzo - Sappada
82 kms
Sappada - Carnia
66 kms
Lago di Garda variant
120 kms
Options
The tour inter­sects with the Dolomites East-West tour at Canazei and at Cortina d'Ampezzo. There's nothing to stop you combining parts of the two routes.
The route connects with the Mountains of Lombardia route, which in turn connects to the Western Lakes route - you could combine them together to make a 1,000-kilometre tour that took you through the lakes and mountains of northern Italy.
There's also the option of a detour to the Lago di Garda.
Downloads
Maps to print out or view offline
 About the maps
Links open in new windows unless you 'save as' etc.
The maps are in two versions: A4 portrait format - for printing and maybe also for viewing on an iPad, and A5 for smaller tablets and smart­phones. As far as eReaders are concerned so far I've not managed to get them to work on a Nook - but you may have more success with other devices.
GPS files
The Dolomites (West-East) gps files


(.zip file containing 8 gpx track files)

 Italy Points of Interest

 About POIs

POIs are like waypoints, but while you can usually only store a limited number of waypoints on a device, you can store thousands of POIs. These files include inform­ation about campsites and hostels, bike shops, train stations, drinking water sources as well as warnings for tunnels and roads where bikes are banned. Please check the ReadMe file for instruc­tions. Updated April 2018. The file format is only compatible with Garmin GPSes .
More information
Places to stay
Hotels and B&Bs
Find and book places to stay with Booking.com
Booking.com area pages:
 About these links
If you use these links to book accom­mod­ation Booking.com will pay me a small part of their commission. This helps support the costs of producing this site.
I use Booking.com to find and book places to stay when there are no campsites in the area. The large majority of hotels and many hostels are now on 'Booking'. I like it because it means that I can get almost-instant confirm­ation. The rating system is also a reliable guide to the quality of the accom­mod­ation.
I've never had a problem finding places to keep my bike —even if it's a cupboard or store room. I always use the 'special requests' field on the booking form to tell the hotel that I'm travelling with a bike, which gives them the oppor­tunity to let me know if there's a problem.
Many properties offer free cancel­lation but it's a good idea to check the condi­tions as these vary from property to property.
Hostels
There are very only two hostels along the way: in Toblach and Calalzo di Cadore.
Campsites
There's plenty of choice of campsites.
Map of campsites along the route: Dolomites-WE-campsites-map-show map in overlay | Dolomites-WE-campsites-map-show map in new window
Transport and services
Transport connections
The nearest stations to the start of the route are Edolo and Mezzolombardo. It ends at the station at Carnia.
Articles in this series
---
Get in touch
Please get in touch if you find any errors in the information, or if there's anything, good or bad, that you'd want other cyclists to know.