Published on: 21 March 2013 | Last updated: 25 December 2019
This ride takes you on quiet roads in the hills between the Lago d'Orta and the Lago Maggiore. Great views over both lakes. Plus, a short detour, takes you into the village of Pisogno with its collection of murals.
Powered by WP-GPX Maps
tips for using the map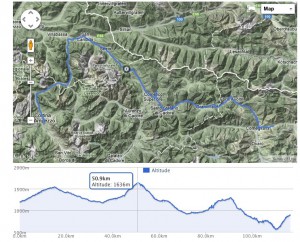 Run your cursor over the graph to show the elevation, and distance from the start, for any given point on the route. (Note: the altitude graph is not shown where the route is flat).
Click the little icon in the right-hand corner to see the map fullscreen
---
At Gignese is the Museo dell'Ombrello e del Parasole. In the past, poverty forced many men to become itinerant artisans. Areas often seemed to specialise in particular crafts - in this area the speci­ality was making and repairing umbrellas and parasols.
It was a tough life: on New Year's Day boys as young as seven or eight would be entrusted to an umbrella-maker to learn the trade and they would be on the road all year, only coming home for a few days at Christmas. One researcher has traced 180 dynasties of umbrella-makers origin­ating from the Gignese area - some as far afield as San Francisco, New York and Sidney.
The inscription reads:
"In memory of all the umbrella-makers who, every first of January took to the road armed only with their hopes and who with their sacrifice paved the way for the better times for the gener­a­tions to come."
Below that is a phrase in dialect which says 'on the New Year's Day to Carpignino without a penny', to find the boss.
See the museum's web pages for opening times.
There's a good restaurant at Gignese: the Locanda Verbena. They also have B&B.
---
Get in touch
Please get in touch if you find any errors in the information, or if there's anything, good or bad, that you'd want other cyclists to know.