Published on: 8 April 2013 | Last updated: 3 January 2020
The Sella Ronda MTB, as you've probably already guessed, is the MTB version of the road circuit. (If you're inter­ested in the road version then see this article: The Sella Ronda).
It's an absolute cracker, and a truly memorable ride.
The route is 60 kilometres (but this includes the distance covered by lifts) with 4380 metres of descent and 8 lift rides leaving a measly 750 metres climbing. It's rated as 4* for technical downhills and 3* for endurance. When they say 4* for technical downhills they aren't kidding, there are some tricky sections. It sounds fairly straight­forward on paper, but don't under­es­timate it, especially, if, like me, your technical skills aren't up to much.
It's very well way-marked, and you could do it on your own, but the option of a guided tour is available (see box) and I think is defin­itely worth considering.
The Val di Fassa tourist promotion people have produced a short (2:33) video that gives a very good idea of what to expect (it looks better in the overlay).
https://youtu.be/0ivaV29vsDU
Map and altitude profile
Powered by WP-GPX Maps
tips for using the map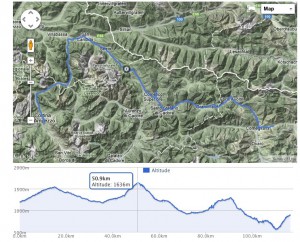 Run your cursor over the graph to show the elevation, and distance from the start, for any given point on the route. (Note: the altitude graph is not shown where the route is flat).
Click the little icon in the right-hand corner to see the map fullscreen
---
My favourite part was the section from the I Tabla mountain restaurant above Corvara which runs along a ridge towards Pralongia with well-surfaced paths and some beautiful views before descending through the woods to the Passo Campolongo. There's also a lovely section descending towards Corvara. When I did it there were lots of walkers around, but out of the high season this could be a nice cruisey stretch.
There are spectacular views at a number of points put the view over the Marmolada glacier and the Lago di Fedaia from the top of the Porta Vescovo cable car is outstanding.
Guided tours
You can do the Sella Ronda MTB as part of a guided tour, for inform­ation on MTB guides see sellaronda-mtb.com: Info.
Practical points
It is a pretty big day: very good riders on a good day out of high season should be able to do the whole thing without too much trouble - but bear in mind that most of the descents are pretty tricky and there are few places where you can really go fast (especially at busy times with lots of walkers). So it's worth­while keeping in mind bailout options if you need to make up time.
Lifts and bailout options
The lifts are open between 8.30 (-ish) and 17:00 or 17.30. I did see one lift running after that time but that may have only been to bring people down from the mountain. The map/flyer for the route says that the lifts close for lunch between 12.15 and 14:00 this seems to be only true for some lifts - the lifts above Corvara for example run all day. Lifts may also close due to bad weather. When I did the circuit (in mid-August) one chairlift had to close due to high winds;
There are some sections where the road is a feasible bailout option if the lifts are closed or you need to make up time, while in others going by road would involve a fairly big climb. This is something to bear in mind, partic­u­larly if you are starting from Colfosco/Corvara where you have the risk of a big climb up from Val Gardena at the end of the day - so you defin­itely need to keep an eye on the lunchtime closure times for the lifts out of Campitello di Fassa.
The anti-clockwise route
There are two routes: clockwise and anti-clockwise. The clockwise route is way-marked. There are feeder routes from La Villa and from San Cassiano/San Kassian.
When I wrote this article the anti-clockwise route wasn't waymarked but that may well have changed. It is shown on the Kompass Gruppo Sella map and may be shown on the more detailed 25K Tabacco maps. Bear in mind that the route is subject to change.
Resources/more information
When I first wrote this article in 2012 there was very little inform­ation in English about the route. Now there is loads. There's a dedicated website: Sella Ronda MTB track tour (sellaronda-mtb.com) (de/it/en).
Once you've worked out how the site works it's very logical, but initially it left me scratching my head. It offers two guides with inform­ation on the route depending on whether you are going clockwise or anti-clockwise these include important inform­ation about lift opening times:
There are also pages that give inform­ation about things like companies offering guided tours. These depend on your starting point:
You then need to scroll right down to the bottom of the page to the 'useful inform­ation' section which lists companies offering bike rental and guided tours. (Note: the pages look the same, but the listings are different). You can also download a pdf version of the guide leaflets with a pretty decent looking map which I assume is available from the tourist offices. There are four different versions - the maps are the same, but the additional inform­ation is tailored to the local area.
In addition to the dedicated site the tourist promotion websites for individual areas on the Sella Ronda have useful cycling sections:
And just for the sake of completeness (and in case and of those links get broken) here are the links to the home pages of the tourist office websites:
Downloads
GPS files
Sella Ronda MTB gps files


(.zip file containing 1 gpx track file)

Italy Points of Interest

About POIs

POIs are like waypoints, but while you can usually only store a limited number of waypoints on a device, you can store thousands of POIs. These files include inform­ation about campsites and hostels, bike shops, train stations, drinking water sources as well as warnings for tunnels and roads where bikes are banned. Please check the ReadMe file for instruc­tions. Updated April 2018. The file format is only compatible with Garmin GPSes .
---
Get in touch
Please get in touch if you find any errors in the information, or if there's anything, good or bad, that you'd want other cyclists to know.