Published on: 8 April 2013 | Last updated: 11 February 2017
A circular ride that follows the foot of the Pale di San Martino - one of the most scenic parts of the Dolomites. A straight­forward ride through Alpine meadows; superb views, and the sound of cowbells.
The ride starts off at the visitor centre for the Parco Paneveggio Pale San Martino. On your left as you start the ride is a little permanent exhib­ition about violin-making and the abete rosso (red spruce) that grows in the woods around here - they've been called the foresta dei violini. The wood from these trees was used, because of its particular charac­ter­istics, by Stradivarius and the other violin makers of Cremona.
The climb is up on an unsur­faced road passing the Malga Venegiota (a malga is a dairy cum farmhouse used while the cows are grazing in their summer pastures - many are now, like this one, part farm, part mountain restaurant/café) and on to the Baita Segantini where there's a bar and restaurant. This is a good place to stop for lunch - although in peak season there are a lot of people around.
The route descends through alpine grass­lands (the area is part of a ski resort in winter), passing a refuge ('capanna') and another malga and then through the woods. The path gets a little sketchier here - so clockwise is probably the best direction to do this route.
Map and altitude profile
Powered by WP-GPX Maps
tips for using the map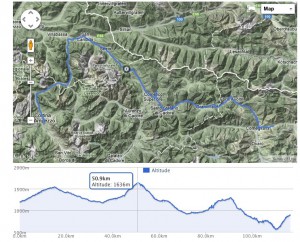 Run your cursor over the graph to show the elevation, and distance from the start, for any given point on the route. (Note: the altitude graph is not shown where the route is flat).
Click the little icon in the right-hand corner to see the map fullscreen
---
Downloads
GPS files
Val Venegia and Pale di San Martino gps file


(.zip file containing 1 gpx track file)

Italy Points of Interest

About POIs

POIs are like waypoints, but while you can usually only store a limited number of waypoints on a device, you can store thousands of POIs. These files include inform­ation about campsites and hostels, bike shops, train stations, drinking water sources as well as warnings for tunnels and roads where bikes are banned. Please check the ReadMe file for instruc­tions. Updated April 2018. The file format is only compatible with Garmin GPSes .
---
Get in touch
Please get in touch if you find any errors in the information, or if there's anything, good or bad, that you'd want other cyclists to know.