Published on: 30 August 2015 | Last updated: 17 March 2018
At a glance
Distance
201 kms
Difficulty/​terrain
Easy. Mostly downhill or flat from Toblach to Villach and then climbs gently to Tarvisio.
Traffic
Mostly traffic-free cycleway with short stretches on quiet roads.
Surfaces
Mixed - mainly tarmac-surfaced cycleway or road, but there are some shortish sections of unsur­faced track.
Signs
Well signed.
Distances
Toblach (Dobbiaco) – Lienz
48 kms
Lienz - Oberdrauburg
21 kms
Oberdrauburg - Spittal an der Drau
58 kms
Spittal an der Drau - Villach
43 kms
Villach - Arnoldstein
17 kms
Arnoldstein - Tarvisio
5 kms
This route takes the Drauradweg cycle route from Toblach (Dobbiaco) in Italy to Lienz in Austria, and then following the Drau (Drava) river on to Villach where it turns back towards Italy and Tarvisio.
This route is will also be of interest to anyone planning a long-distance tour because it provides a link between the networks of cycleways in the Südtirol, the Austrian Tirol, Friuli Venezia Giulia region and Slovenija. It's worth consid­ering whether you're looking for a route that combines more than one country - or simply a convenient link between the Pusterbike cycleway in the Südtirol and the FVG1 (Ciclovia Alpe-Adria Radweg in Friuli Venezia Giulia). See the options and connec­tions section below.
Map and altitude profile
Powered by WP-GPX Maps
tips for using the map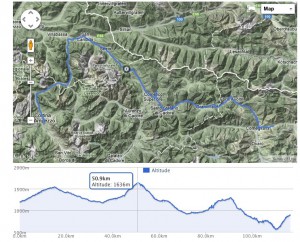 Run your cursor over the graph to show the elevation, and distance from the start, for any given point on the route. (Note: the altitude graph is not shown where the route is flat).
Click the little icon in the right-hand corner to see the map fullscreen
---
Options and connections
The route connects with the Ciclovia Alpe-Adria Radweg at Spittal an der Drau (the CAAR starts in Salzburg). It follows the CAAR as it crosses the border and continues towards Tarvisio. From Tarvisio the CAAR heads south towards Udine and then Grado at the coast.
As an altern­ative from Tarvisio to Kranjska Gora and follow the Alpe-Adria Bike through Slovenija and on to Trieste and then follow the Adriatic Coast.
Both the CAAR and the Alpe-Adria Bike join up with the eurovelo 8 which offers a route along the Adriatic coast - either west towards Venezia or east towards Trieste, Slovenija and Croatia.
At its northern end the Drauradweg meets the Pusterbike cycle route which follows the valley of the Puster river. At Fortezza Franzensfeste it meets the cycleway that heads south from the Brenner pass on the border with Austria, towards Bozen (Bolzano) and onwards to the lago di Garda and Verona.
At Toblach (Dobbiaco) there's the junction with the Ciclabile delle Dolomiti which goes via Cortina d'Ampezzo to Calalzo di Cadore in the Veneto. The ciclabile delle Dolomiti forms is part of the München-Venezia ciclabile (Munich-Venice cycle route).
The Drau cycleway continues to Maribor in Slovenija.
Downloads
Maps to print out or view offline
The zip files contain pdf files packaged together for convenience. If you are using a tablet you may find it easier to download the individual sections.
Show map download links for individual sections
Through Austria along the River Drau from Toblach to Tarvisio A4 maps
Through Austria along the River Drau from Toblach to Tarvisio A5 maps
About the maps
Links open in new windows unless you 'save as' etc.
The maps are in two versions: A4 portrait format - for printing and maybe also for viewing on an iPad, and A5 for smaller tablets and smart­phones. As far as eReaders are concerned so far I've not managed to get them to work on a Nook - but you may have more success with other devices.
GPS files
Along the River Drau from Toblach to Tarvisio gps files


(.zip file containing 5 gpx files)

Italy Points of Interest

About POIs

POIs are like waypoints, but while you can usually only store a limited number of waypoints on a device, you can store thousands of POIs. These files include inform­ation about campsites and hostels, bike shops, train stations, drinking water sources as well as warnings for tunnels and roads where bikes are banned. Please check the ReadMe file for instruc­tions. Updated April 2018. The file format is only compatible with Garmin GPSes .
More information
Places to stay
Transport and services
You are never very far from a train station on this route. The main rail hubs are Lienz and Villach. Toblach station is served by the SAD regional train company which operates services between Fortezza Franzensfeste and Lienz. At Fortezza Franzensfeste you can connect with the national and inter­na­tional train network.
The nearest airport is Klagenfurt but it offers only a limited range of destin­a­tions.
Resources
Articles in this series
Through Austria along the River Drau from Toblach to Tarvisio - Overview
---
Get in touch
Please get in touch if you find any errors in the information, or if there's anything, good or bad, that you'd want other cyclists to know.