Published on: 2 January 2017 | Last updated: 6 January 2020
At a glance
Distance
361 kilometres
Difficulty/terrain
Moderately challenging. There are three climbs with more than 500 metres altitude gain. There are options to make the route easier, or even harder.
Traffic
Mainly quiet roads and cycleways.
Surfaces
The route is entirely on surfaced roads and cycleways that are in good condition.
Finding your way
The cycleways are well signed.
Overview
This route is a short tour in the Julian Alps. The Julian Alps are the range of mountains that straddle the border between north-east Italy and western Slovenija. The pale limestone mountains are every bit as beautiful as the nearby Dolomites.
I planned this tour as a short intro­duction to Slovenija as I was curious to see what it was like. I was impressed: it offers great scenery and quiet (OK mainly quiet) roads.
The route takes you to Lake Bled and Lake Bohinj in Slovenija as well as following the beautiful Soča river. The route includes two of Europe's best cycleways: the FVG1 in Italy and the D2 in Slovenija.
The route starts at Tarvisio close to the border with Slovenija (and Austria) from here it follows the FVG1 and D2 cycleways to Kranjska Gora and Jesenice, and from there to the Blesko Jezero (Lake Bled) and Bohinjsko Jezero (Lake Bohinj). It climbs to the Bohinjsko Sedlo (altitude 1275m) cross from the lakes into the valleys of the Bača and Soča rivers.
The route then follows the Soča river to Bovec before climbing to the Passo del Predil (altitude 1156m) and the border with Italy. It passes the Lago del Predil on its way back to Tarvisio.
After Tarvisio there's a long relaxed cruise along the FVG1 cycleway as it heads towards Chiusaforte. At Chiusaforte the route leaves the cycleway and follows the beautiful Val Racolana as it heads back to the Lago del Predil and the Passo del Predil. From the pass it's downhill pretty much all the way to Bovec and Kobarid and then to Cividale del Friuli in Italy.
Map and altitude profile
Powered by WP-GPX Maps
tips for using the map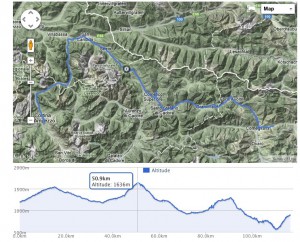 Run your cursor over the graph to show the elevation, and distance from the start, for any given point on the route. (Note: the altitude graph is not shown where the route is flat).
Click the little icon in the right-hand corner to see the map fullscreen
---
Distances
Tarvisio (Boscoverde station) - Radovljica
58 kms
Radovljca - Bohinjska Bistrica
28 kms
Bohinjska Bistrica - Tolmin
56 kms
Tolmin - Kobarid
16 kms
Kobarid - Bovec
23 kms
Bovec - Tarvisio
30 kms
Tarvisio - Chiusaforte
36 kms
Chiusaforte - Bovec
47 kms
Bovec - Cividale del Friuli
52 kms
Total
361 kms
Options and connections
If you fancy something a little more challenging you could take the Ruska cesta (Russian road) which goes over the Vršič Pass in the heart of the Triglavski Narodni national park (sl/de/en). The climb from Kranjska Gora involves an altitude gain of just over 800 metres over 12.5 kilometres - so an average gradient of 6.5 percent.
You could also make a side-trip off the route climb from the Predil pass (1156m) to the Mangartsko sedlo (Mangart Saddle) which, with an altitude of 2072m at the top is Slovenia's highest road.
Connections
You could avoid the climb between Bonhinjska Bistrica and Podbrdo by taking the train. The AdriaBike/BiMoBis cycle routes suggest taking the train Jesenice to Most Na Soči, but so far as I can see you could just catch the train at Bonhinjska Bistrica and then get off at Podbrdo.
This tour is based on the BiMoBis and AdriaBike routes. You can use these resources and maps to plan a longer tour - for example continuing from Cividale del Friuli to Gorizia and from there crossing back into Slovenija. Alternatively the AdriaBike route goes south to Trieste and the Slovenian coast.
At its northern end the route connects to the Ciclovia Alpe-Adria Radweg inter­na­tional cycle route between Salzburg and the coast at Grado. The Ciclovia Alpe-Adria Radweg in turn connects with the Drau cycle route at Villach.
If you don't mind impro­vising a little you could also continue on from the Bohinjsko Sedlo pass to Škofja-Loka and from there into Ljubljana.
Getting there and getting back
The closest airports are Trieste Monfalcone and Klagenfurt. Innsbruck, Treviso and Venezia are also options.
There are trains to Tarvisio Boscoverde from Trieste and Udine in Italy and from Villach in Austria.
There's a bike-friendly train service from Cividale del Friuli to Udine. Note that this service is operated by the Ferrovia Udine Cividale and these services may not show in the search results on bahn.com and trenitalia.com.
Downloads
Maps to print out or view offline
The zip files contain pdf files packaged together for convenience. If you are using a tablet you may find it easier to download the individual sections.
Show map download links for individual sections
About the maps
The maps are in two versions: A4 portrait format - for printing and maybe also for viewing on an iPad, and A5 for smaller tablets and smart­phones. (A4 and A5 are inter­na­tional paper sizes).
Links open in new windows unless you 'save as' etc.
GPS files
Julian Alps gps files


(.zip file containing 4 track files and 1 file of waypoints)

Italy Points of Interest

About POIs

POIs are like waypoints, but while you can usually only store a limited number of waypoints on a device, you can store thousands of POIs. These files include inform­ation about campsites and hostels, bike shops, train stations, drinking water sources as well as warnings for tunnels and roads where bikes are banned. Please check the ReadMe file for instruc­tions. Updated April 2018. The file format is only compatible with Garmin GPSes .
More information
Places to stay
Hotels
Hostels
There are a number of hostels on the Slovenian section of the route. On the Italian side there's the Rifugio Julius-Kagy at Valbruna There are also plenty of reasonably-priced B&Bs along the FVG1.
When it comes to hostels you also have plenty of choice on the Slovenian section, with at least one hostel at every town on the route. Many hostels belong to the Popotni&#353ko združenje Slovenije (Hostelling International Slovenia) (slv/eng - but booking in other languages available via Hostelling International), but there are also several independent hostels.
Hostels map: JA-FT-hostels-mapshow map in overlay | JA-FT-hostels-map show map in new window
Campsites
There are no campsites on the Italian section of this route, but there are plenty of sites on the Slovenian section. Bear in mind though that many of the campsites in the Soča valley are aimed at kayakers —so they are close to the river but may be a way off the route, and a long way from shops and restaurants.
Campsites map: JA-FT-campsites-mapshow map in overlay | JA-FT-campsites-map show map in new window
Transport and services
Resources
Tourist information websites
tarvisiano.org (it/en/de). Tourist inform­ation for the Tarvisio area
turismofvg.it (it/en/de). Regional tourist inform­ation site for Friuli Venezia Giulia
slovenia.info. National tourist inform­ation site for Slovenija.
Independent and commercial sites
adeleinslovenia.com. English-language blog/guide by a woman who first came to Radovljica on a cycling trip and liked it so much that she made her home there
finestayslovenia.com the website for a holiday apartment near Bled, it has lots of useful inform­ation with lots of well-chosen pictures
travelslovenia.org a travel guide website that majors in photo­graphy including showcases of the work of some brilliant landscape photographers
Cycling information websites
For more inform­ation about resources for planning a tour in this area please see: Crossing borders: cycle routes between Italy, Slovenija and Austria on this site.
Articles in this series
---
Get in touch
Please get in touch if you find any errors in the information, or if there's anything, good or bad, that you'd want other cyclists to know.