Published on: 4 February 2018 | Last updated: 4 January 2020
Map and altitude profile
Powered by WP-GPX Maps
tips for using the map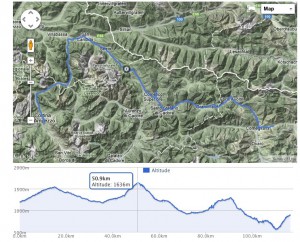 Run your cursor over the graph to show the elevation, and distance from the start, for any given point on the route. (Note: the altitude graph is not shown where the route is flat).
Click the little icon in the right-hand corner to see the map fullscreen
---
Distances
München - Holzkirchen
36 kms
München - Gmund (on the Tegernsee)
54 kms
München - Otterfing
31 kms
Gmund - Rottach-Egern
13 kms
Rottach-Egern - Achenkirch
38 kms
Total distance
106 kms
More information
Places to stay
Hotels etc
One thing to bear in mind if you are planning to stay overnight in München is that if there is a major trade show, prices can literally triple — and that is prices on everything from hostels upwards. If you can choose when to travel it is worth using booking.com to research prices before you book your travel tickets. Another event to bear in mind is the Oktoberfest which, despite the name, starts around September 20th.
My favourite place to stay is the
hotel in München centre which is an easy bike ride from the station. It also has a car park where you can leave your bike (and the rooms have hand bike-sized balconies ).
Find and book places to stay with Booking.com
Booking.com pages for places on this section of the route:
M | Tegernsee | Achenkirch | Achensee | Maurach
About these links
If you use these links to book accom­mod­ation Booking.com will pay me a small part of their commission. This helps support the costs of producing this site.
I use Booking.com to find and book places to stay when there are no campsites in the area. The large majority of hotels and many hostels are now on 'Booking'. I like it because it means that I can get almost-instant confirm­ation. The rating system is also a reliable guide to the quality of the accommodation.
I've never had a problem finding places to keep my bike —even if it's a cupboard or store room. I always use the 'special requests' field on the booking form to tell the hotel that I'm travelling with a bike, which gives them the oppor­tunity to let me know if there's a problem.
Many properties offer free cancel­lation but it's a good idea to check the condi­tions as these vary from property to property.
Hostels
There are several hostels in M: DJH Jugendherberge M-Park | A&O München Hauptbahnhof | A&O München Hackerbrücke | A&O München Laim | Jugendherberge Burg Schwaneck.
There's a hostel at Kreuth: the DJH Jugendherberge Kreuth-Scharling.
Map: MV-hostels-map - show hostels map in overlay | MV-hostels-map - show hostels map in new window
Campsites
The Campingplatz München Thalkirchen is very close to the route to the south of München. There's also the Campingplatz Wallberg at Weißach am Tegernsee at the southern end of the lake.
There are then no campsites until you get to the Achensee where there are at least three: the Camping Schwarzenau, the Seecamping Wimmer, and the Karwendel Camping.
Map: MV-campsites-map - show campsites map in overlay | MV-campsites-map - show campsites map in new window
Transport and services
Trains
There are regular trains between München and the Tegernsee, but the Tegernsee bahnhof (station) is the end of the line.
Bike shops
Resources
Cycling-related websites
Tourist information websites
tegernsee.com (de/en/it) and tegernsee-schliersee.de (de/en) both have tourist inform­ation for the Tegernsee and Schliersee areas
achensee.com (de/en) is the tourist inform­ation site for the Achensee area
tyrol.com (de/en/it/nl/fr/di/ro/pl/ck/ru) is probably the most useful tourist inform­ation site for the Austrian section. There's also an excellent iOS/Android app
Resources for München
Articles in this series
München-Venezia: 1: München to Achenkirch
---
Get in touch
Please get in touch if you find any errors in the information, or if there's anything, good or bad, that you'd want other cyclists to know.