Published on: 4 February 2018 | Last updated: 1 January 2020
The Pragser Wildsee (Lago di Braies)
At a glance
Distance
16 kms (there and back)
Difficulty/terrain
Moderately challenging especially in the final climb to the lake
Traffic
Partly traffic-free. The lake is a popular spot for people to visit, and as a base for day hikes — so expect the road to be busy in the mornings with traffic going to the lake and the after­noons with traffic heading from it. If you head up there in the afternoon and stay overnight, most of the traffic will be heading in the opposite direction.
Surfaces
Asphalt-surfaced cycleway or road for the whole way
Signposting
Easy to follow and the cycleway section is clearly signposted
Options and variants
There's a bike path that enables you to avoid the road for the whole way. However, it looked like a mountain bike trail.
The Pragser Wildsee (Lago di Braies) is quite possibly the most beautiful lake in the Dolomites. It's defin­itely worth the effort of getting there.
Map and altitude profile
Powered by WP-GPX Maps
tips for using the map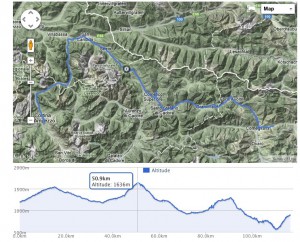 Run your cursor over the graph to show the elevation, and distance from the start, for any given point on the route. (Note: the altitude graph is not shown where the route is flat).
Click the little icon in the right-hand corner to see the map fullscreen
---
Route description
I was pleased to find that what was marked on the map as a track, turned out to be a surfaced road in excellent condition which was closed to traffic for at least part of the way. The radroute takes you into the village of Schmieden (which for some reason was landed with the name Ferrara). To add to the confusion it is marked on the maps as Innerprags (Braies di Dentro), but Schmieden/Ferrara is what it says on the road sign. There is a restaurant-bar here.
From Schmieden I continued by road through Sankt Veit (San Vito). There is also a cycle route that takes you to the lake, but as it is marked as a track on my map, I decided to take the road.
There are lots of places to stay along the way, but I'd strongly recommend staying at the Hotel Pragser Wildsee, the only hotel on the lake itself. Built at the end of the nineteenth century the hotel has been carefully restored and retains a lot of its turn-of-the-century style. another reason for staying at the hotel is that if you want to take photos of the lake with the mountain reflected in the water you need to be up and about at 6:00 in the morning.
Articles in this series
---
Get in touch
Please get in touch if you find any errors in the information, or if there's anything, good or bad, that you'd want other cyclists to know.