Published on: 3 February 2014 | Last updated: 6 January 2020
The Eroica is an annual cycling event - mixture of a race and a cycling festival - that takes place in early October starting and finishing in the village of Gaiole-in-Chianti. To take part in the race you need to ride a vintage bike. The race's other unique feature is that the course includes long sections of unsur­faced 'strade bianche' - 'white roads'. The strade blanche are literally white and are a charac­ter­istic feature of the landscape of this part of Toscana. The race was actually started in the 1990s with the aim of helping to preserve them. (Scroll down for a map showing road surfaces). If you can't come for the event itself, the 205-kilometre route (the 'percorso permanente') is signposted and you can cycle it at your leisure.
In addition to the 205-kilometre option parti­cipants in the race have the choice of a 38-kilometre, 75-kilometre 139-kilometre and 205-kilometre courses. Lots of people opt for the more relaxed options, so it isn't just for the heroic. Many parti­cipants also get into the spirit of the event by dressing in retro clothes and there are 'retro refreshment' stops along the way.
Brooks, who are one of the sponsors of the event, have posted a couple of videos that will give you a flavour of what to expect:
Taking part
If you're inter­ested in taking part in the race you can find more inform­ation on the official website eroica.cc: Gaiole. In 2013 the race had about 5,000 parti­cipants. You have to pre-register to take part in the lottery for places. The lottery for men under – 60 takes place in March, while the lottery for women, men over 60 and certain other categories, takes place in June. In 2013 the regis­tration fee for lottery winners was 35€. A limited number of places were also available at a higher price (with the extra money going to charity).
More about the rules
The rules about bikes (quoted from the website) are:
"Bici eroiche are all road racing bikes built up to and including 1987 both with or without gears, such as those built in the late 19th and early 20th centuries. These bicycles most likely have a steel frame, but other types of rare frames are also permitted, such as the aluminium frames built by Alan and Vitus with screwed or glued joints and the Exxon Graftek frames of the late 1970s with carbon tubes glued to aluminium lugs. Regarding components, bicycles should adhere to the following general guidelines:

more recent bikes with gears and derail­leurs, such as Simplex, Huret, Campagnolo, Zeus, Shimano, Suntour, etc. must have shift levers on the down tube of the frame; excep­tions include pre-1980 non-indexed bar-end gear shifters and rod/hand manual operated front derailleurs;
pedals should be with toe clips and straps or original pedals for older bikes; quick release, clip-less pedals are not allowed;
the brake cables must pass outside and over the handlebars (cables can pass inside the frame);
older geared bicycles must have original shifters such as Cambio Corsa, Cambio Paris Roubaix, Cambio Vittoria Margherita, etc.;
wheels must have at least 32 spokes laced to a low profile rim (20 mm depth or less, except for wooden rims); the rims must be of either steel, aluminium or wood;
both tubular tyres and clinchers with inner tubes are allowed;
we invite parti­cipants to fit saddles from the same period as the bicycles, so a model of 1987 or earlier; altern­at­ively we suggest fitting a vintage model of modern production;
the change of the gear ratios is allowed due to the diffi­culty of the ride.
there are no particular rules on the type of brakes as long as they are in line with the construction period of the bicycle and are efficient for safety reasons.

Obviously, early 20th century bicycles with single gear or flip-flop rear hubs don't need to comply with the above criteria as long as they have their original components."
The rules in full are published on eroica.cc: L'Eroica Gaiole Regulations. The site also has lots of inform­ation about the regis­tration process and require­ments. Probably the most important requirement that you need to be aware of is that due to a change in the law in 2015, you now need to submit a medical certificate.
Tour operators and organised holidays
There are a number of companies offering holidays that include parti­cip­ation in the Eroica itself. However, prices are jaw-dropping: 3000 euros for 8 or 9 nights, based on a shared room. OK, a lot of people come to take part in the race but even so you should be able to arrange your own accom­mod­ation for a lot less than that. The tour-operator packages might be worth consid­ering if you are really desperate to take part and really want to guarantee yourself a place.
Bike Tour Tuscany (Anima Bike Tours) offer several tours using the permanent route: bike-tour-tuscany.com: Permanent route of L'Eroica.
Map and altitude profile
Powered by WP-GPX Maps
tips for using the map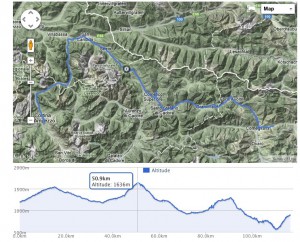 Run your cursor over the graph to show the elevation, and distance from the start, for any given point on the route. (Note: the altitude graph is not shown where the route is flat).
Click the little icon in the right-hand corner to see the map fullscreen
---
The signposted route
You can ride the 205-kilometre signposted route, or sections of it, at any time and on any type of bike. While the official route starts at Gaiole-in-Chianti, you can easily pick it up at any point - and as the route passes close to Siena you might find the city a convenient jumping-off point. There's nothing to stop you doing it in either direction but the signposts only point one way.
There are a number of towns and villages either on the route or close to it, so finding food and water shouldn't be a problem.
You can buy a roadbook and you can collect stamps from authorised hotels, restaurants and bars along the way, and, provided you get 6 stamps (and cough up 7 euros) you can get a person­alised certi­ficate that you completed the ride. For more inform­ation and a list of parti­cip­ating organ­isa­tions to eroica.cc: permanent route
Map showing road surfaces
Legend
━━━━━

tarmac-surfaced road

━━━━━

aggregate-surfaced strada bianca
Map: Eroica-map-show map in overlay | Eroica-map-show map in new window
Download the gps files
GPS files
Eroica signposted route gps files


(.zip file containing 3 gpx track files)

Italy Points of Interest

About POIs

POIs are like waypoints, but while you can usually only store a limited number of waypoints on a device, you can store thousands of POIs. These files include inform­ation about campsites and hostels, bike shops, train stations, drinking water sources as well as warnings for tunnels and roads where bikes are banned. Please check the ReadMe file for instruc­tions. Updated April 2018. The file format is only compatible with Garmin GPSes .
More information
Places to stay
Hotels and B&Bs
Find and book places to stay with Booking.com
Booking.com pages for places on this section of the route:
About these links
If you use these links to book accom­mod­ation Booking.com will pay me a small part of their commission. This helps support the costs of producing this site.
I use Booking.com to find and book places to stay when there are no campsites in the area. The large majority of hotels and many hostels are now on 'Booking'. I like it because it means that I can get almost-instant confirm­ation. The rating system is also a reliable guide to the quality of the accommodation.
I've never had a problem finding places to keep my bike —even if it's a cupboard or store room. I always use the 'special requests' field on the booking form to tell the hotel that I'm travelling with a bike, which gives them the oppor­tunity to let me know if there's a problem.
Many properties offer free cancel­lation but it's a good idea to check the condi­tions as these vary from property to property.
Hostels
There's a hostel in Siena (the Ostello di Siena/Ostello Guidoriccio). The Camping Siena Colleverde also offers 'bungalows' which may be an economical option if you are travelling as a group. There are lots of agrit­urismi in the area but bear in mind that prices will vary a lot and some may be self-catering apartments.
Campsites
If you are planning on camping there are several campsites within striking distance of the course - although none are very close:
Transport and services
Transport connections
Siena is probably the best bet if you are arriving by train.
According to eroicaga.cc: permanent route a luggage transport service is available at weekends between April and November. The cost is:
25 € for Billy-No-Mates (sorry, "Heroic solo riders"
40 € for two people
15 Euros per person for groups of 3 to 7 people
10 Euros per person for groups of 8 people or more
Resources
There's a useful page on the eroicaga.cc website (it/en) eroica.cc: permanent route
There's nice article by Mat Brett on road.cc with lots and lots of photos to give you a sense of the atmosphere, and another on totalwomenscycling.com focusing on women taking part in the event, and proving that no, you don't need a big bushy moustache.
---
Get in touch
Please get in touch if you find any errors in the information, or if there's anything, good or bad, that you'd want other cyclists to know.