Published on: 18 March 2013 | Last updated: 31 March 2017
Powered by WP-GPX Maps
tips for using the map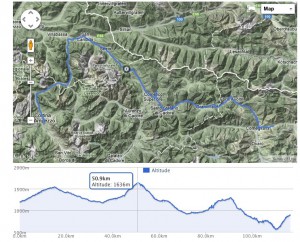 Run your cursor over the graph to show the elevation, and distance from the start, for any given point on the route. (Note: the altitude graph is not shown where the route is flat).
Click the little icon in the right-hand corner to see the map fullscreen
---
The first part of this route takes you through the Vinschgau (Val Venosta) from the lake at Reschen to the spa town of Meran (Merano) and the region's capital Bozen (Bolzano). This is defin­itely most scenic part of the route, with plenty of attractive villages along the way.
Options
If you're heading north-south the route is pretty much downhill all the way. When I did this route in 2011 there was a couple of shortish stretches of unsur­faced cycleway in this section.
The route connects with the Ciclopista del Sole at Bozen/Bolzano (link opens in new window).
Articles in this series
The Adige: from the mountains to the sea – Part 1
---
Get in touch
Please get in touch if you find any errors in the information, or if there's anything, good or bad, that you'd want other cyclists to know.