Published on: 18 March 2013 | Last updated: 27 December 2019
Powered by WP-GPX Maps
tips for using the map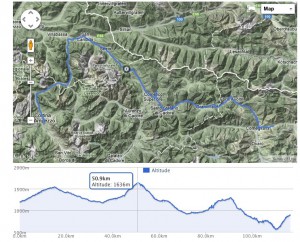 Run your cursor over the graph to show the elevation, and distance from the start, for any given point on the route. (Note: the altitude graph is not shown where the route is flat).
Click the little icon in the right-hand corner to see the map fullscreen
---
The route is pretty flat from here. Riding past the vineyards of the Valle dell'Adige. Don't be tempted to bypass Bozen and Trento - both are worth a bit of time to have a look around.
From Trento you have the option of continuing on the Via Claudia Augusta towards Feltre, Treviso and Venezia.
More information
Places to stay
The best budget option in trento is the Ostello Giovane Europa. The nearest campsites are at the Lago di Caldonazzo. There's also a hostel at Rovereto (Ostello di Rovereto).
If you're planning to stay in a hotel it might be worth booking ahead: when I passed though in 2011 every­where was booked and the only place the Tourist Office could find for me was an agrit­urismo a way out of town.
Transport and services
Trains
The main rail line runs through the valley so you will never be far from a train station.
Articles in this series
The Adige: from the mountains to the sea – Part 2
---
Get in touch
Please get in touch if you find any errors in the information, or if there's anything, good or bad, that you'd want other cyclists to know.