Published on: 16 March 2013 | Last updated: 9 February 2018
This cycleway is also known as the Ciclabile Val di Fiemme Val di Fassa – in fact I think this is the official title but the local tourist authorities have given it a snappier name. The cycleway provides an important option if you are heading to or from the Dolomites. It links Molino-di-Fiemme with Canazei which is within cycling distance of the Sella Ronda and the Marmolada glacier. Other major passes are within striking distance of the route.
The vast majority of the cycleway is tarmacked and when I rode it in 2012 they were tarmacking another stretch. It is also pretty much entirely traffic-free.
If you're planning to do this as a day-ride then I'd suggest taking the Bici-Bus to Canazei and then riding the cycleway downhill. Although the gradients are pretty gentle so plenty of people do it in the uphill direction.
Options
The cycleway provides a huge number of road connections heading eastwards. Heading westwards the SS612 provides a reasonably quiet option through the wine country of the Val di Cembra and the town of Lavis where you can pick up the Ciclabile Valle dell'Adige.
Map and altitude profile
Powered by WP-GPX Maps
tips for using the map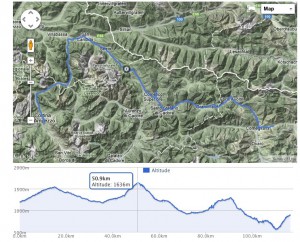 Run your cursor over the graph to show the elevation, and distance from the start, for any given point on the route. (Note: the altitude graph is not shown where the route is flat).
Click the little icon in the right-hand corner to see the map fullscreen
---
---
Maps to print out or view offline
About the maps
Links open in new windows unless you 'save as' etc.
The maps are in two versions: A4 portrait format - for printing and maybe also for viewing on an iPad, and A5 for smaller tablets and smartphones. As far as eReaders are concerned so far I've not managed to get them to work on a Nook - but you may have more success with other devices.
More information
Places to stay
There are no campsites on the first half of the route. After that there are several including:
Transport and services
Trains
The nearest station is at Lavis.
There's a bici-bus service between Canazei and Molina di Fiemme the Bike Express
Resources
www.fassa.com has lots of information about the route, including information about the bus service, food and accommodation, bike shops etc. You can also download the map/flyer.
---
Get in touch
Please get in touch if you find any errors in the information, or if there's anything, good or bad, that you'd want other cyclists to know.