Published on: 16 March 2013 | Last updated: 25 February 2018
The Ciclabile delle Dolomiti cycleway (formerly known as the Lunga Via delle Dolomiti cycleway) follows the course of an old rail line and connects Toblach (Dobbiaco) with Cortina d'Ampezzo with Calalzo di Cadore in the Veneto. It is almost entirely traffic-free, and provides a handy route into heart of the Dolomites.
The route is very scenic (possibly the most scenic of Italian cycleways), as well as the natural scenery look out for the lovely old stations along the routes.
Tourism promotion bodies for the area covered by the cycleway have got together to commission a video to promote the cycleway. It will give you a very good idea of what the cycleway is like, although you may want to mute the soundtrack. (Lasts 14 minutes).
From Cortina to Calalzo di Cadore the surface is tarmac. Before that that the surface is fine aggregate. The first part, from Toblach to Cortina is well worth doing and I would only avoid it if you have really skinny tyres on your bike.
The cycleway crosses the old pre – 1918 border - you can see the old customs post just before Cortina.
Options
The cycleway provides an extremely useful connection with the Pusterbike (Val Pusteria) and the Drauradweg (Ciclabile del Drava) cycleways which both form part of eurovelo 7. The Pusterbike cycleway enables you to travel to Brixen(Bressanone) or Bozen (Bolzano) as well as the Brenner pass. The Drauradweg connects with Lienz in Austria and from there on to Maribor in Slovenija (where it connects with the eurovelo 9.
At the Veneto end you can follow an older version of the Lunga Via which follows quiet roads to Feltre. You can connect at Feltre and Cesiomaggiore with the Via Claudia Augusta.
Powered by WP-GPX Maps
tips for using the map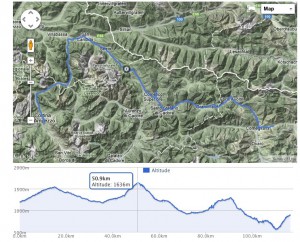 Run your cursor over the graph to show the elevation, and distance from the start, for any given point on the route. (Note: the altitude graph is not shown where the route is flat).
Click the little icon in the right-hand corner to see the map fullscreen
---
Downloads
Maps to print out or view offline
About the maps
Links open in new windows unless you 'save as' etc.
The maps are in two versions: A4 portrait format - for printing and maybe also for viewing on an iPad, and A5 for smaller tablets and smart­phones. As far as eReaders are concerned so far I've not managed to get them to work on a Nook - but you may have more success with other devices.
GPS files
Lunga Via delle Dolomiti gps file


(.zip file containing 1 gpx track file)

Italy Points of Interest

About POIs

POIs are like waypoints, but while you can usually only store a limited number of waypoints on a device, you can store thousands of POIs. These files include inform­ation about campsites and hostels, bike shops, train stations, drinking water sources as well as warnings for tunnels and roads where bikes are banned. Please check the ReadMe file for instruc­tions. Updated April 2018. The file format is only compatible with Garmin GPSes .
More information
Places to stay
There are lots of hotels along the way. There are campsites at Toblach, Cortina d'Ampezzo and near Calalzo di Cadore:
There's also a hostel at Calalzo; the Ostello Lunga Via Delle Dolomiti
Transport and services
Trains
There's a train stations at Toblach with frequent bike-friendly services either to Lienz in Austria or to Fortezza Franzensfeste, where you can join the main national rail network. There's also a train station at Calalzo di Cadore, however you can't take a bike on most of the services — the exception is a weekly service which runs direct from Venezia. It leaves Venezia at 7:50 on Saturdays (and public holidays) and returns from Calalzo at 17:40. Download the timetable: trenitalia.com: Venezia-Calalzo di Cadore timetable.
There's a 'Bike N'Bus' service offered by DolomitiBus - for more inform­ation see this page on the ciclabiledolomiti.com for more inform­ation. You can also download the brochure for Cortina Express bus company, with the summer timetables, from here
---
Get in touch
Please get in touch if you find any errors in the information, or if there's anything, good or bad, that you'd want other cyclists to know.