Published on: 16 March 2013 | Last updated: 7 January 2020
The Val Rendena cycleway is entirely surfaced and mainly traffic-free. It starts at Sant'Antonio di Mavignola. Go past the fountain and the little chapel on your left (if the chapel is open don't go by without taking a peek).
The next bit is fairly steep, very quiet, road. At the bottom of the hill are the resort town of Pinzolo and its quieter neighbour Carisolo. The cycleway detours to the church of a tiny chapel of San Stefano on an outcrop of rock above the river with frescoes by Simone Baschenis. Inside there's a magni­ficent frescoes of Charlemagne. During the peak summer months the little church is opened up by volun­teers (see visittrentino.info for opening times - or ask at the helpful tourist office). Speaking of the helpful tourist office, if you have the time, rent the excellent audio-tour of the village.
It's defin­itely worth making the stop to see the church of San Vigilio in Pinzolo with its danza macabara by Simone Baschenis. A danza macabra is a fresco showing the great and the good of the Middle Ages in a dance with skeletal figures - there are a small number of these scattered across Europe).
There are another couple of Baschenis chapels at Pelugo and Ragoli.
The cycleway ends at the Lago di Ponte Pio. The lake itself is nice enough, but you won't be partic­u­larly missing out on anything if you decide to continue on towards Stenico.
Map and altitude profile
Powered by WP-GPX Maps
tips for using the map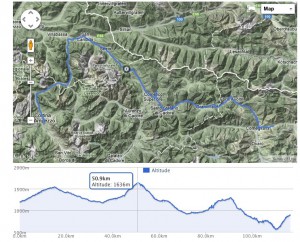 Run your cursor over the graph to show the elevation, and distance from the start, for any given point on the route. (Note: the altitude graph is not shown where the route is flat).
Click the little icon in the right-hand corner to see the map fullscreen
---
Options
More information
Places to stay
Transport and services
Where to eat
Particular recom­mend­a­tions for the Magnabò restaurant next to the campsite at Carisolo and the pizzeria Le Fontane next to the Val Rendena campsite.
Transport connections
There are no stations within easy reach. There are however bicibus services that link the area with both the Lago di Garda and with the Val di Sole —including the train station at Dimaro. For more details, and to download timetables go to campigliodolomiti.it Dolomiti-Garda bike-shuttle.
Resources
---
Get in touch
Please get in touch if you find any errors in the information, or if there's anything, good or bad, that you'd want other cyclists to know.